Ullapool Guide
The village of Ullapool is a picturesque traditional fishing village sitting on the shores of Loch Broom. The gateway to the Summer Isles and Hebrides, Ullapool has been settled for many years. Pictish Forts and Stone hut circles remain from earlier ages, and place names tell of the Norse and Viking heritage as well as the Gaelic traditions. The village today was designed in 1788 by Thomas Telford, intended as a Herring Port in the 1700s.
Fishing and the harbour are still crucial to the village, although these days the harbour not only welcomes fishing boats from sea but also plays host to cruise ships from all over the world, yachts and pleasure vessels and even tall ships.
The village has a reputation for music, arts and entertainment. We have annual established book, guitar, music and beer festivals. Our ferry link to the Hebrides allows for visits to the Isles of Lewis and Harris. Tour operators at the harbour cruise to the wonderful Summer Isles. We are within easy access of some wonderful hills and moutains as well as the North West Geopark and numerous great locations for nature and scenery watching.
The bars and restaurants in the village offer food and drink throughout the day and entertainment for all tastes at night. We have a great theatre and art centre, and also some lovely path networks along the river and up the hill behind the village.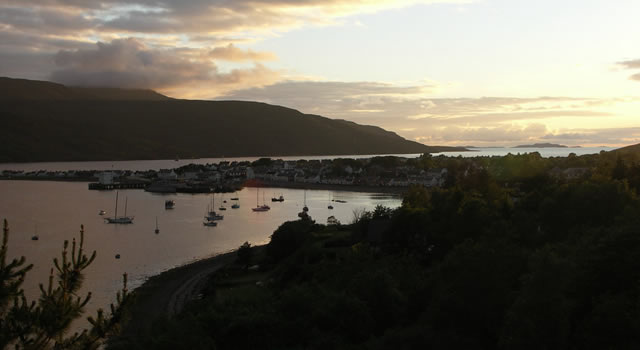 Ullapool
| About Ullapool | |
| --- | --- |
| Population | 1,308 |
| Established | 1788 |
| Distance Inverness | 55 miles |
| Distance GeoPark | 12 miles |
| Distance Corrieshalloch Gorge | 11 miles |
| Links | Stornoway Ferry |
---
Events & Festivals
Our festivals tend to be of a size that makes them friendly and personal yet they attract acts and personalities of international fame.
| Event | Season |
| --- | --- |
| Ullapool Book Festival | May |
| Loopallu Music festival | September |
| Ullapool Guitar Festival | October |
| World Skiff Championships | July 8th to 14th, 2013 |
Visit While Here
The sites, beauty spots and places of interest historically, geologically and for climbing, walking and exploring are almost endless, but here are a few suggestions.
---
Ullapool Shops and Facilities
There are a range of excellent local shops within the village as well as a chemist, banks and supermarket. Throughout the summer, there is a market on Saturdays offering local crafts and produce. Many of the gift shops offer a range of traditional Scottish clothing and products, and Highland Pottery has a working outlet where you can view the products and watch them being made. Ullapool boasts two independent book shops.
There are a number of cafes, bars and restaurants where you can drink and eat, these open throughout the day and evenings, and we also have two fish and chip shops, an Indian Restaurant and Chinese Takeaway.